Wyrd have announced all new starter sets for Malifaux 4rd edition.
For Malifaux Third Edition, one of our design goals was to make sure that the game was easy to get into for new and returning players alike. We are continuing that trend by releasing a Starter Box for each Faction, starting with the Explorer's Society.
Each Starter Box will include Versatile characters (and at least one Versatile Henchman) that can be used with any crew in that Faction. A Starter Box can get players immediately playing Henchman Hardcore, or can be treated as a strong foundation to start building a crew for a 50 Soulstone game. Models included in each Starter Box will come preassembled so you can start playing as soon as you open up the box.
For the Explorer's Society, players will have access to: Mr. Ngaatoro, a hard-hitting Henchman with a few tricks up his sleeve; Tannenbaum, a Versatile (and Seeker) Enforcer with the unique ability to Rewrite the Story, which allows him to replace a Scheme that isn't going as planned; and two Hopeful Prospects, who are Versatile Minions that can adapt to almost any situation after getting a lucky shot on their opponent.
But to get started in Malifaux, we know that it takes more than just putting models on the table. In each Starter Box, we are including their stat cards, 2 copies of each Explorer's Society General Upgrade, a brand new Fate Deck, a measuring widget, and a handful of 30mm tokens, all of which are themed to that Starter Box's Faction. Let's take a look at the widget and Fate Deck that will be included with the Explorer's Society Starter Box: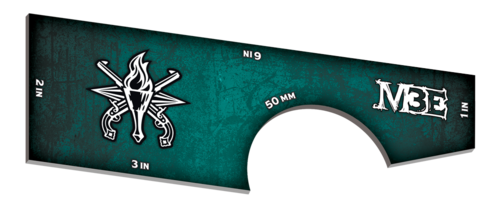 The measuring widget will have sides for just about everything you'll need to move or draw range, as well as a 50mm indent to help with Blasts.
Each Starter Box will also have a unique Fate Deck styled with that Faction's colours and characters. These Fate Decks won't be available anywhere else!
This starter set hits the shelves in May.