eBay can be a scary place for a hobbyist, as wargames and hobby supplies aren't cheap. You will hear all of those horror stories about being ripped off, items not being sent or just plain false listings, but don't be scared away. eBay can be a great source of materials and model parts that are hard to find elsewhere.
eBay can be a great source of miniature parts for converters, as eBay sellers often list individual parts from model kits or individual models from box sets.


eBay can be great for picking up multiple cheap pre- built models to test your chosen paint schemes without the worry of ruining your expensive new kits.
You can snatch up some amazing deals on eBay but you have to go in with the correct expectations.
The Pitfalls of eBay
Don't go in with high expectations when it comes to buying miniatures on eBay. You're searching for miniatures below RRP or second hand, so don't be surprised if some items are not in top notch condition.
If you're on the lookout for painted armies, expect to pay a pretty penny. When it comes to eBay everyone's a pro painter!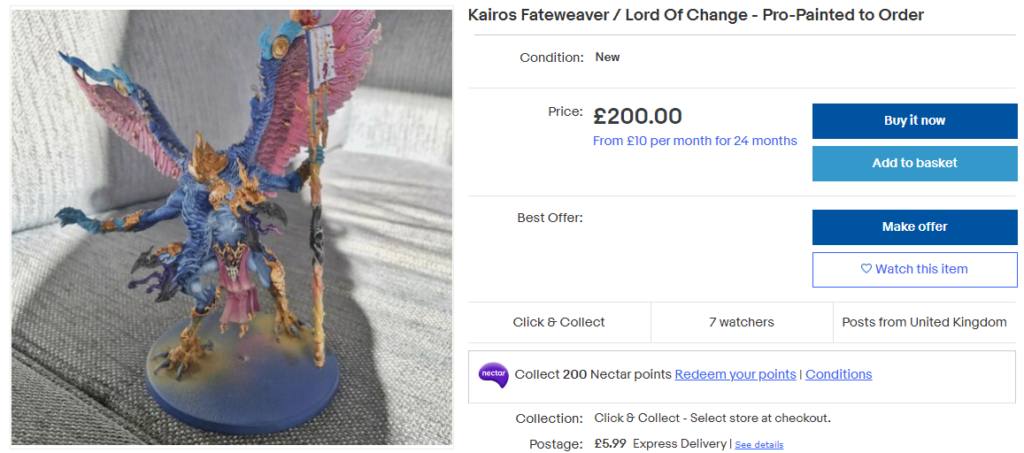 "Now I'm not saying that this is painted poorly, just pointing out that every other painted listing on eBay is (PRO PAINTED)".
Now I've pointed out some of the good and bad points of eBay, you can go and have a look for yourself at some of the treasures and deals that you can find on the site.
See, there's no need to be afraid of eBay.