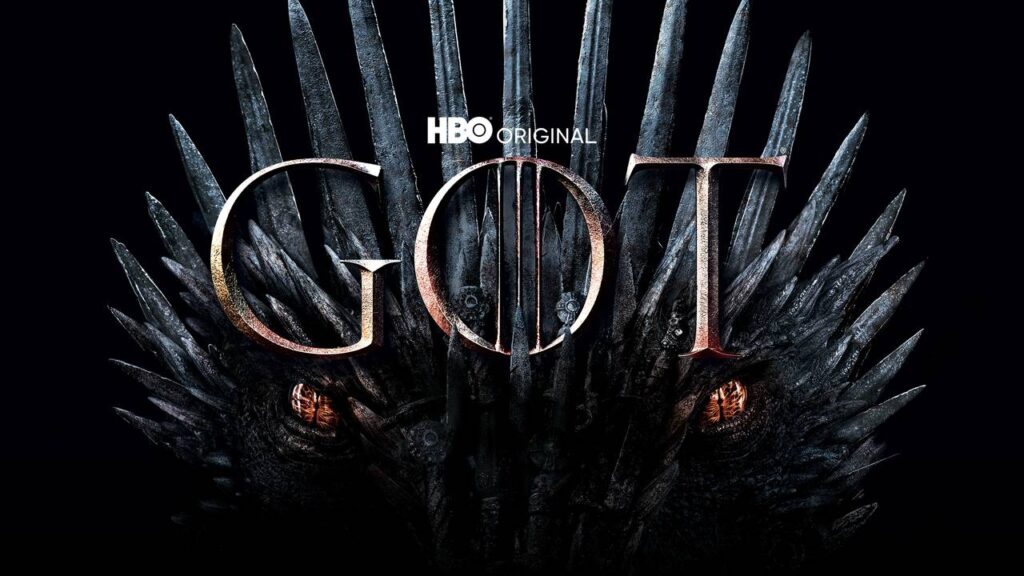 Game of Thrones is an American fantasy drama television series created by David Benioff and D. B. Weiss for HBO. It is an adaptation of A Song of Ice and Fire, a series of fantasy novels by George R. R. Martin, the first of which is A Game of Thrones. The show was shot in the United Kingdom, Canada, Croatia, Iceland, Malta, Morocco, and Spain. It premiered on HBO in the United States on April 17, 2011, and concluded on May 19, 2019, with 73 episodes broadcast over eight seasons.
Set on the fictional continents of Westeros and Essos, Game of Thrones has a large ensemble cast and follows several story arcs throughout the course of the show. The first major arc concerns the Iron Throne of the Seven Kingdoms of Westeros through a web of political conflicts among the noble families either vying to claim the throne or fighting for independence from whoever sits on it. A second focuses on the last descendant of the realm's deposed ruling dynasty, who has been exiled to Essos and is plotting to return and reclaim the throne. The third follows the Night's Watch, a military order defending the realm against threats from beyond Westeros's northern border.
Game of Thrones attracted a record viewership on HBO and has a broad, active, and international fan base. Critics have praised the series for its acting, complex characters, story, scope, and production values, although its frequent use of nudity and violence (including sexual violence) has been subject to criticism. The final season received significant critical backlash for its reduced length and creative decisions, with many considering it a disappointing conclusion.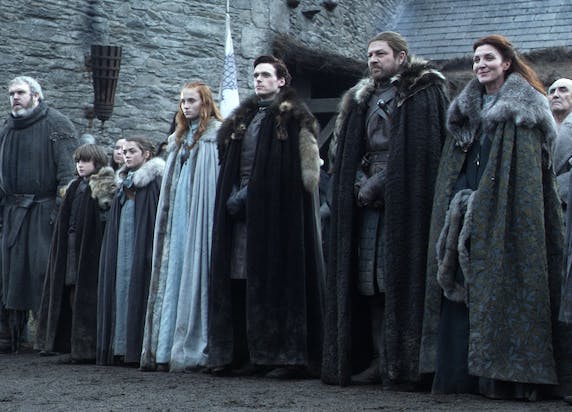 HBO Productions purchased the television rights for the A Song of Ice and Fire series in 2007 and began airing the fantasy series on their US premium cable channel on April 17, 2011. Titled Game of Thrones, it ran weekly for ten episodes, each approximately an hour long. Although busy completing A Dance With Dragons and other projects, George R. R. Martin was heavily involved in the production of the television series adaptation of his books. Martin's involvement included the selection of a production team and participation in scriptwriting; the opening credits list him as a co-executive producer of the series. The series was renewed shortly after the first episode aired.
The first season was nominated for 13 Emmy Awards, ultimately winning two: one for its opening title credits, and one for Peter Dinklage as Best Supporting Actor.
The first season was also nominated for a 2012 Hugo Award, fantasy and science fiction's oldest award, presented by the World Science Fiction Society each year at the annual Worldcon; the show went on to win the 2012 Hugo for Best Dramatic Presentation, Long Form, at Chicon 7, the 70th World Science Fiction Convention. Martin took home one of the three Hugo Award trophies awarded in that collaborative category, the other two going to Game of Thrones show-runners David Benioff and D. B. Weiss.
The second season, based on the second A Song of Ice and Fire novel A Clash of Kings, began airing on HBO in the US on April 1, 2012. The second season was nominated for 12 Emmy Awards, including another Supporting Actor nomination for Dinklage. It went on to win six of those Emmys in the Technical Arts categories, which were awarded the week before the regular televised 2012 awards show. The second-season episode "Blackwater", written by Martin, was nominated the following year for the 2013 Hugo Award in the Best Dramatic Presentation, Short Form category; that episode went on to win the Hugo Award at LoneStarCon 3, the 71st World Science Fiction Convention. In addition to Martin, show-runners Benioff and Weiss (who contributed several scenes to the final screenplay) and episode director Neil Marshal (who expanded the scope of the episode on set) received Hugo statuettes.
Seasons 5 and 6 each won a dozen Emmy Awards, including Outstanding Drama Series.
By the end of 2016, all seasons up to season 6 (which premiered on April 24, 2016) had been aired on HBO and all seasons had been released on DVD and/or Blu-ray for home viewing (see List of Game of Thrones episodes). The company confirmed on July 18, 2016, that season 7 would consist of seven episodes instead of the usual ten, and would premiere later than usual, in mid-2017, because of the later filming schedule. This was necessary in order to be shooting during the winter season in Europe. Season 7 was expected to air in mid 2017. The first footage from the season was revealed in a new promotional video that featured clips from its new and returning original shows for the coming year on November 28, 2016, showcasing Jon Snow, Sansa Stark and Arya Stark. Like the previous season, it would largely consist of original content not found in Martin's A Song of Ice and Fire series, but also adapts material from the upcoming sixth and seventh novels: The Winds of Winter and A Dream of Spring.
For season 8, in November 2016, President of Programming Casey Bloys indicated that he had had preliminary discussions about a prequel spinoff to the Game of Thrones series with Martin. In May 2017, HBO commissioned five screenwriters – Max Borenstein, Jane Goldman, Brian Helgeland, Carly Wray and Bryan Cogman – to develop individual spin-offs. All of the writers are to be working individually with Martin. According to Casey Bloys, Martin is co-writing two of the four announced scripts. The first episode of season 8 was broadcast on April 14, 2019. This season had a total of six episodes.
Season 8 reduced characters to caricatures, didn't earn its character development and the shift in their arcs, baked in several plot holes, and did away with internal logic and consistency. 
Season 8 received massive backlash from angry fans as well as critics and didn't live up to the standards of writing or story, set by the original few seasons.
The game of thrones tv series is still worth watching even with the disappointing ending. I often go back and re watch the first 4 seasons while painting miniatures. At least we now have the A Song of Ice and Fire miniatures game to make up for season 8.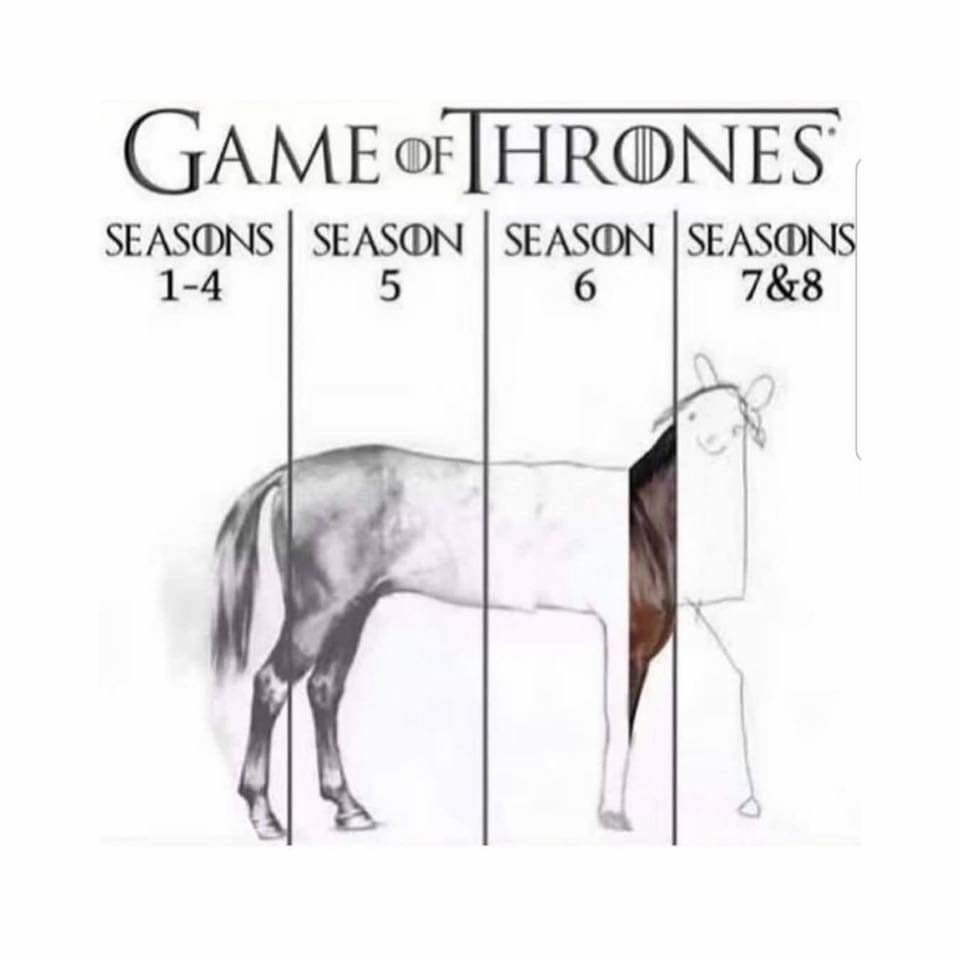 Coming soon……..Part 5: A Song of Ice and Fire miniatures game.