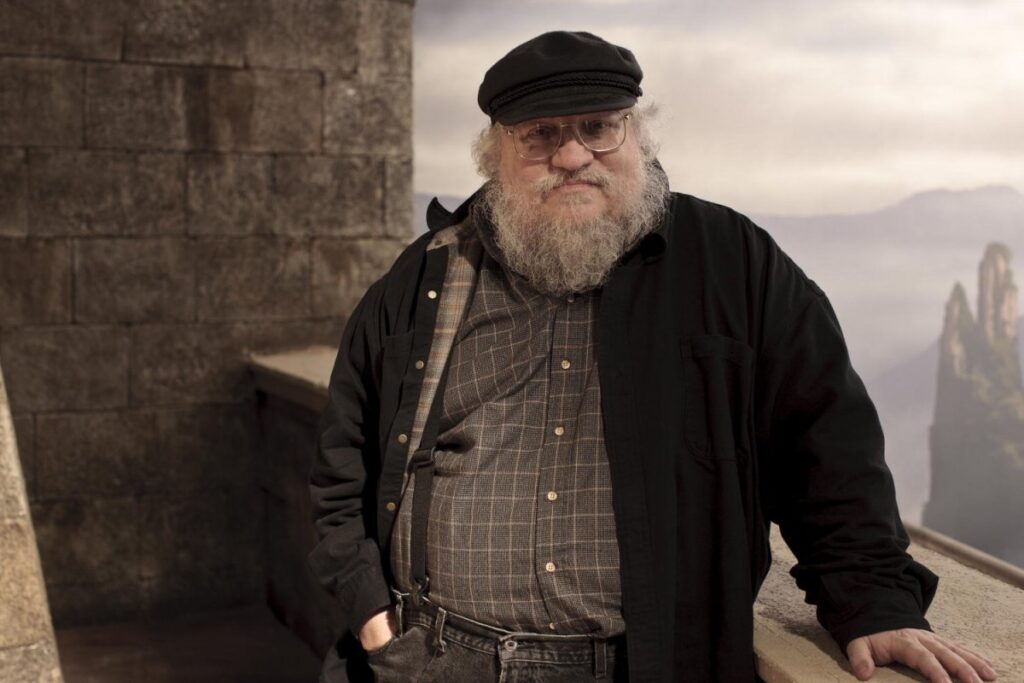 Part 3: George R R Martin.
George R.R Martin is the much celebrated writer of the famous A Song of Ice and Fire series. He was born on September 20, 1948 in Bayonne, New Jersey and grew up to be world renowned Science Fiction and Fantasy writer. George being the only son of Raymond Collins Martin, a longshoreman and Margaret Brady Martin has two sisters Darleen Martin Lapinski and Janet Martin Patten. Martin obtained his early education from Jane Donohoe School and Marist High School moving on to B.S (1970) and M.S (1971) degrees in Journalism Northwestern University, Evanston, Illinois.
As a child Martin was fond of writing stories and dramas which he sold to other children in the neighborhood in return for only a few pennies. In his teenage years, Martin was a passionate reader of comic books and stockpiled many comic books to make his own collection. His publishing career also began during this period when he started writing fiction stories for amateur comic fan magazines. After graduating from university Martin worked for the Country Legal Assistance Foundation from 1972 to 1974. Martin also took interest in directing chess tournaments at the Continental Chess Association during these years. In 1976, Martin took up teaching Journalism at Clarke College, Dubuque, Iowa. He left teaching in 1978. All through this time, he continued to write part time. In 1975, Martin tied the knot with Gale Burnick but the marriage ended in 1979 after which Martin became a full time writer.
George R.R Martin's first work titled The Hero was published in 1970 when he was only 20. There was no looking back and Martin wrote many fantasies including his claim to fame series A Song of Fire and Ice and Games of Thrones. His novels such as Dying of the Light, The Ice Dragon and Windhaven have also done well among fiction lovers. Martin also wrote and edited comic books. Some of the famous ones are Wild Cards, Sandkings and The Hedge Knight. Due to a broad fan following all over the world, Martin's stories have been translated into German, French, Italian, Spanish, Swedish, Dutch, Japanese, Portugese, Croatian, Russian, Polish, Hungarian, Finnish, and Esperanto.
In addition to publishing, Martin has made his mark in Hollywood as well. In 1986, he worked as a story editor on the Twilight Zone at CBS Television. A year later, Martin was the Executive Story Consultant for Beauty and the Beast at CBS. He later became The Beauty and The Beast's producer in 1988 moving on to the post of a Co-Supervising Producer in 1989. Martin wrote the Columbia Pictures' Doorways and also became the Executive Producer of this project while it was being filmed during 1992 and 1993.
George R.R Martin has been awarded with a number of prestigious awards for his exceptional talents. He is a 6 times winner of the Locus Award, 3 times winner of the Hugo Award and a 2 times winner of the Nebula Award. He also has up his sleeve the Daikon, Balrog, Gigamesh, Daedelus, Bram Stoker and World Fantasy awards.
These days Martin is a member of Science Fiction & Fantasy Writers of America and of Writers' Guild of America, West. He resides in Santa Fe, New Mexico.
Coming soon……..Part 4: HBO Game of Thrones