You'll need strength, cunning, and strategy to win the Iron Throne.
CMON have made a nice little app for all those wargamers that have delved into the world of Westeros. The app is designed as a one stop shop for all the information you would need to play the game.
The front page of the War Council app is broken down into 4 sections. 
My collection is where you can add all of your purchased units. This allows you easy access to everything you own without having to scroll through the entire range. 
My armies is where you create your army list. This section contains the units, commanders and unit upgrades for every army in the A Song of Ice and Fire tabletop game. This section allows you to access all unit cards so you can plan an army before you purchase your miniatures.
Tactics cards section contains all of the tactics cards used in the game.
Documents is where you will find the full rulebook as well as any game scenario's and FAQ.
The War Council app contains the full up to date rulebook, giving you easy access to any rules queries you have while playing your games or for you to familiarise your self with the rules while your on the move.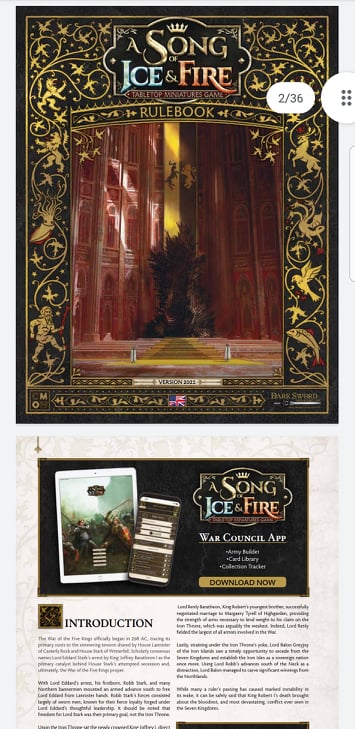 As you can see from these pictures the app allows you to easily create armies and check out stats of units and special rules. This is great if your a tournament player as you have access to all the information on your opposing players force.
Summery: This is an amazing app, giving you access to all the rules and stats for every miniature in the game. the layout is clear and easy to read and updates itself whenever there is an update to the game or new miniatures are released. The army builder was so9 easy to use, that i managed to work it out first try " and I'm terrible with technology".
CMON have put a lot of effort into this app and best of all…….. its completly free!!!!
Games Workshop take not!! this is how to make an app.