Part 5: Where to find epic 6mm miniatures
Games Workshop sadly discontinued the epic 6mm range years ago, so it is impossible to buy them from the original source. Thankfully there are other options for those wishing to play epic and Horus Heresy in this amazing scale.
One of the best online stores for 6mm miniatures is Vanguard Miniatures. The have a large range of miniatures and scenery suitable for games of Epic. Vanguard also have very friendly prices, averaging around £8.00 for 40 troopers.
eBay is another option but expect to pay a lot for miniatures in good condition.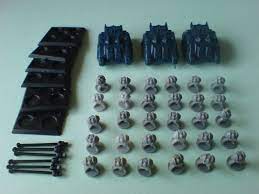 If you are lucky enough to have access to a 3d printer, you have access to thousands of 6mm miniatures. 
Sites like Thingiverse, cults3d and yeggi are gold mines for fan created stl files.
Coming soon……….Part 6: March of the 14th legion