We set off at 5am, after a very late night in the local pub. After what felt like a weeklong journey, we arrived at the first ever Horus Heresy Weekender, held in the Nottingham Belfry hotel, just off the M1.
We exited into the cold wide world to join the queue, which began to filter in just after 9am and exchanged our tickets for an event only goody bag, containing a programme, limited edition die, lanyard and a bookmark.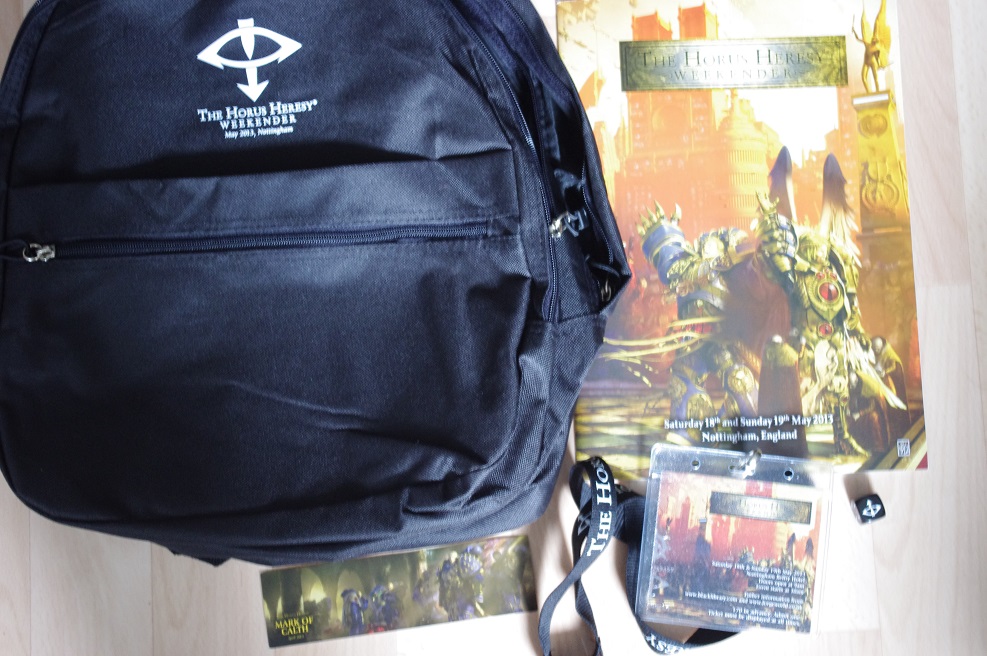 At 10.30am, the first seminar (The Origins of the Horus Heresy) opened and we grabbed a seat. The seminar gave an interesting insight as to how the Horus Heresy came about. Apparently, it came about by accident, when a space needed filling in a Chapter Approved article 1988. Someone on the team was given the task of writing a blurb to fill it and the writer chose to pen a story about a civil war.
From there, old publications were trawled through to find any mention of the Heresy all the way up to 2006 when the first Horus Heresy novel, Horus Rising, was released. This information was gathered together to flesh out the Horus Heresy setting for these novels, the popularity of which lead to the creation of the Horus Heresy tabletop game that we have today.
Sadly, we couldn't get into seminar 2 due to it reaching capacity, so we headed off to the display rooms, then grabbed some lunch.
Seminar 3 was the one everyone was waiting for (future plans). We were treated to a slide show of some amazing miniatures, that would be released over the next 12 months.
We were lucky enough to catch up with a local lad in the form of Black Library author Dan Abnett. We chatted about future books and of all the happenings down our local pub. Then Dan kindly signed a few of our books.
All in all, it was a great weekend. Far too much money was spent (As usual!) and a few too many beverages consumed but we would highly recommend checking out future Horus Heresy events.